COMMUNITY OUTREACH
At Shiloh, we take the charge to touch those around us seriously. We have a desire to take what we have been given beyond the four walls of the Church. The Lord has placed us in this community to meet the needs of the people around us. Whether it is reaching out to those who have availed themselves of our Mercy Ministries, or whether it is speaking into the lives of the leaders of the city, Shiloh is here to care for the community. With countless programs, from tutoring children after school, to ministering to those in neighborhood convalescent homes, to prison ministries, to speaking into the local public schools, to reaching out to the needs of the police, there is always something Shiloh is doing with the community. 
SHILOH MERCY
Shiloh Mercy House provides food to residents in our community 5 days a week, Monday – Friday. Community organization which provides groceries to low-income and homeless families in collaboration with the Alameda County Community Food Bank, and Social Services.
WEEKLY FOOD GIVEAWAY
Join us for our community "walk-through" food giveaway at Shiloh Church. Fresh produce and groceries are given to each family. Bring a rolling cart or box to carry groceries.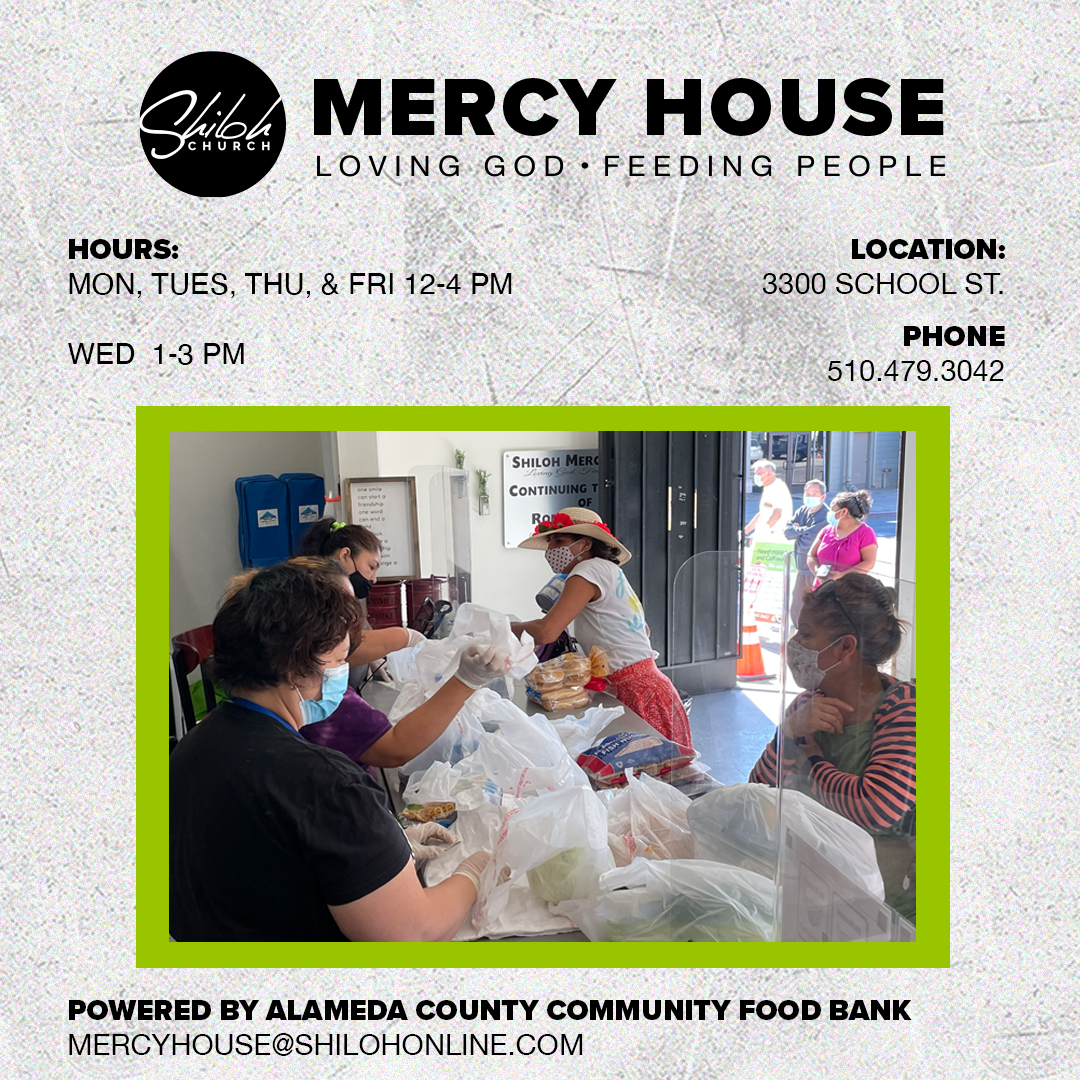 SHILOH MERCY HOUSE
Food is available Monday – Friday, see below for distribution times.
HOURS:
Monday 12:00PM-4:00PM
Tuesday 12:00PM-4:00PM
Wednesday 1:00PM -3:00PM
Thursday 12:00PM-4:00PM
Friday 12:00PM-4:00PM
SAFETY: To help us ensure the safety of the attendees, we ask that you help us practice social distancing (maintain 6 feet of distance) and wear a mask at all times.  If you have symptoms of illness or have been exposed to someone who is sick, please stay home.
CONTACT: For more information about the food giveaway, call (510) 261-2052 or email [email protected].  
CITY TEAM OAKLAND'S WOMENS PROGRAM
CityTeam Oakland currently serves 2,100 meals each week in its Community Dining Hall and shelters up to 98 men each night. Programs for low-income and homeless residents include medical care, case management, food and grocery distribution, and community outreach events for residents throughout Alameda County.
Currently, 1,845 single women are living on the streets in Alameda County. Shiloh Church is partnering with CityTeam as they start a new chapter serving unsheltered women in Oakland by providing supportive transitional housing in East Oakland. The 6-12 month residential program will offer up to 28 women stable housing while receiving counseling, case management, and job support, empowering them to achieve self-sufficiency and stability, coupled with the transformative love of Christ.